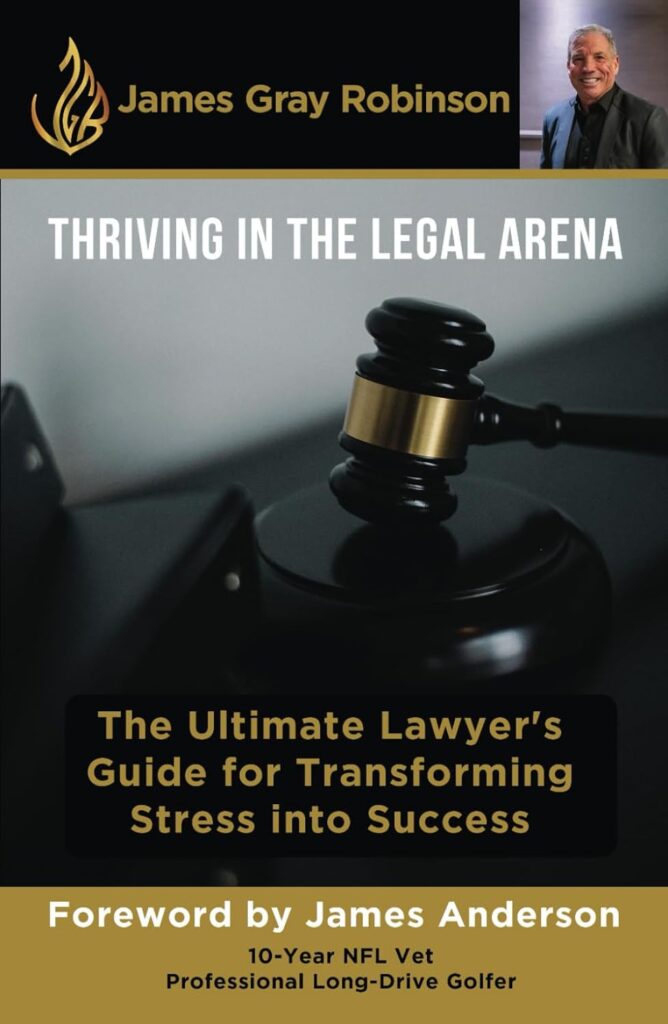 "Thriving in the Legal Arena"
When people pass the bar exam and go to practice law, few are trained to handle the stress and burnout that a law practice can inflict. Many are unprepared for the trauma they will witness and experience as lawyers daily. Lawyers' mental and emotional health have declined today to the point that after a few short years, many are disillusioned, exhausted, and want to quit. COVID geometrically multiplied that decline, and lawyers need a solution and strategy for handling the stress, pressure, and constant competition for clients and fees.
The practice of law can be just as stressful as front-line combat, and the constant pressure lawyers experience rising to the top of their profession or just trying to make a living can compromise their health, well-being, and relationships. Lawyers can no longer white-knuckle these stresses and simply hang on. They need a new paradigm, a new way of being proactive for their mental and emotional health. Simply working hard isn't enough anymore. Lawyers must be smarter and learn ways to transform stress into success.
James Gray Robinson was a third-generation trial attorney who was successful and widely respected by his peers until, after 27 years of practice, he had a nervous breakdown and quit practicing law. Traditional therapy was not the solution. For the next 20 years, he researched and trained under world-renowned experts on stress and resilience to learn how lawyers can enjoy practicing law and transform stress into success. He has learned that the problem of stress and burnout lies in the brain and has learned how to make the brain work for lawyers.
A frequent speaker at the ABA, state bar associations, and local associations, James Gray Robinson has found the solutions that so many are seeking. His techniques hack the subconscious and autonomic parts of the brain to remove stress and allow lawyers to enjoy practicing law and balance their work-life equations to thrive.
Don't Wait! Break Free From Stress
Enjoy Life & Career Again
Book Your Free Discovery Call Now!